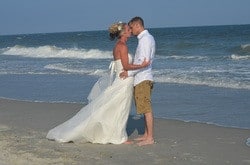 Myrtle Beach Weddings: Myrtle Beach, South Carolina provides many different opportunities to enjoy a simple romantic wedding ceremony.
It is a favorite vacation destination of many people for Myrtle Beach Weddings.  
Myrtle Beach, SC thrives on tourism and events.  Visit Myrtle Beach Vacation Site for ideas during your stay.
It is also a beautiful and romantic place to exchange wedding vows for a Myrtle Beach Vow Renewal.
The beach, a hotel, a resort, a chapel, a public park or camp ground.
These are just a few of the beautiful, opportune places to enjoy your simple wedding day for weddings in Myrtle Beach.
Myrtle Beach Weddings and Vow Renewals are fun and so memorable.
Simple Wedding and Vow Renewal Ceremonies
Myrtle Beach weddings can be either elaborate and quite costly and it can be simple and cost effective.
Click here for information about our Wedding Officiant Services.
If you are looking for a simple wedding ceremony to be performed on the beach or at your designated setting, then I would count it an honor to perform your ceremony and share in your special day.
Weddings Myrtle Beach provide a variety of places to make this romantic lifetime memory come true.
I provide officiation services for Myrtle Beach weddings, and vow renewals.
We also offer:
Sand ceremony sets for weddings
Engraved toasting glasses for weddings
Wedding assistance
Wedding guidance
Myrtle Beach Weddings give you a lot to consider especially taking into account:
Weather
Tides
Time of day
Crowds on the beach
We help choose the best beach wedding locations in Myrtle Beach and the surrounding areas.
When it comes to planning Myrtle Beach Weddings, let Simple Wedding Day help you.
We serve many areas for Beach Weddings, Resort Weddings and Vow Renewals.
We Serve:
Cherry Grove Beach Weddings
North Myrtle Beach Weddings
Myrtle Beach Wedding
Surfside Beach Weddings
Garden City Beach Weddings
Murrells Inlet Weddings
Litchfield Beach Weddings
Pawley's Island Weddings
Georgetown Weddings
Charleston Weddings
Hilton Head Weddings
Ocean Isle Beach Weddings
Sunset Beach Weddings
Wedding Myrtle Beach
Simple Wedding Day, LLC is Insured, Fully Licensed within all municipalities in Horry County.