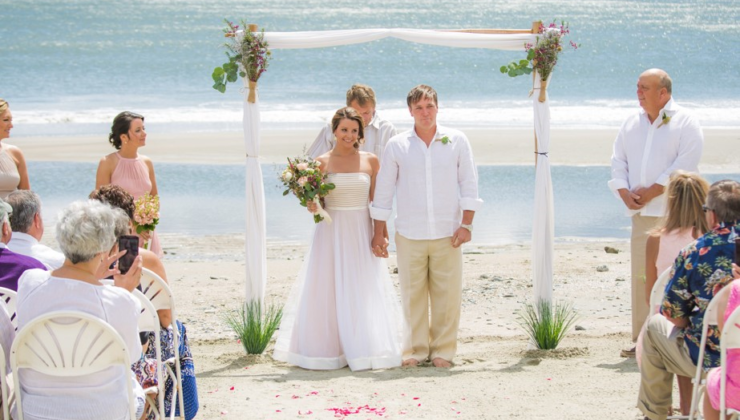 Wedding of Ben & Martha
A beautiful day captures beautiful memories for a Debordieu Beach Wedding,  Congratulations are in order for the Wedding of Ben & Martha.  Thank you so much for the honor of performing your wedding ceremony as your Georgetown Wedding Officiant.  It is a joy to take a plain beach look and transform it into a wedding site with a 30 chair set up and bamboo archway as the decor.   Therefore, about 50 people along with their wedding party supports the bride and groom with love.  Simple Wedding Day, LLC is always available to help with making dreams become true.
If you are considering having a beach wedding, contact Rev. Benjy Simmons.  He is ready to help you with your wedding details.  If you are in need of an officiant for your wedding day, he is available.  A package including chairs and archway is readily available. We offer a music package with great professional DJ's.  A videography package is yet another way to add a special touch.  In addition, a photography package is available as well.  If you need a Personalized sand ceremony set, we offer this too.  We look forward to joining you for such a special day in your lives.  Contact us for more information.
Rev. Benjy Simmons is a pastor at heart, a licensed, ordained minister with over 20+ years experience. He lives in the Surfside Beach Area. He and his family love the causal beach setting and the fun it offers. Weddings are a blast!
Comments