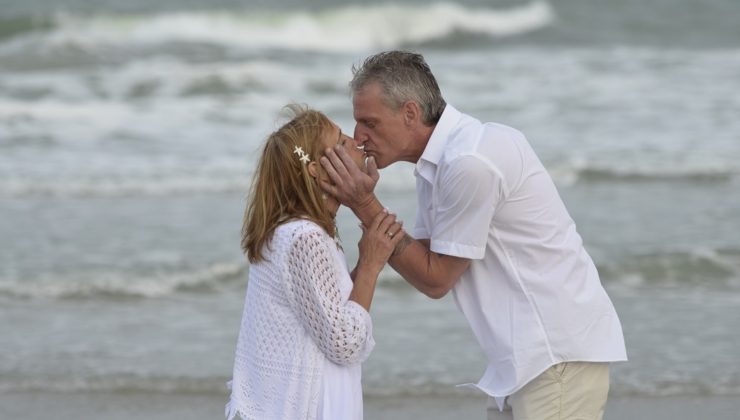 Love Between Ronald & Joannie
A Myrtle Beach Spring Wedding takes place in the afternoon at the Myrtle Beach State Park.  When the air is cool and the skies gray, privacy is a welcoming moment.  Wonderful happiness is within the Love Between Ronald & Joannie.  Their moment when commitment is so sweet.  Such a welcoming couple on a special day when sharing their time of marriage vows with each other.  Thank you so much as your Myrtle Beach Wedding Officiant in performing your ceremony.  A few decorations is set up along with their sand ceremony personalizing their day the way they want.  Simple Wedding Day, LLC is given the honor of witnessing their day.
If you are planning a beach wedding in Myrtle Beach, SC, contact us for assistance.  Rev. Benjy Simmons is available as an officiant to perform your ceremony.  If your wedding is to be at one of the great wedding venues in the area, he is also available to officiate and serve you.  If the need decor, like an archway, a package is available.  We work with many great vendors in which we connect you with.  If  you need wedding chairs, a package is also available.  We offer video and photography packages.  In addition, personalize engraving is a way to add a special touch.  Whether you need help for your Myrtle Beach Spring Wedding or a later date, we await your email or phone call.   Do not delay on planning your 2018 wedding.
Rev. Benjy Simmons is a pastor at heart, a licensed, ordained minister with over 20+ years experience. He lives in the Surfside Beach Area. He and his family love the causal beach setting and the fun it offers. Weddings are a blast!
Comments