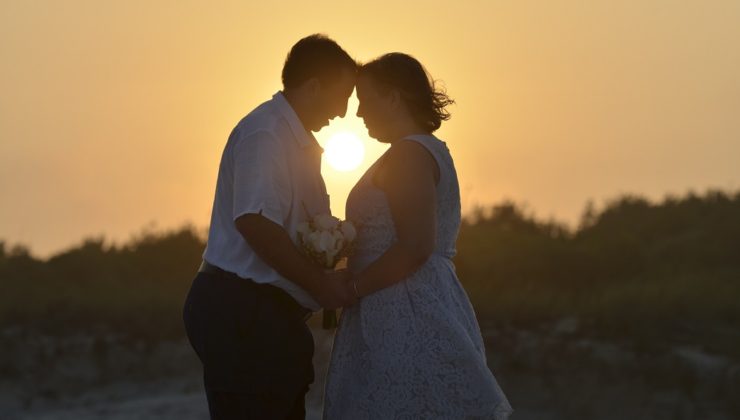 Celebrating With Dennis & Jennifer
A Romantic Murrells Inlet Wedding takes place on the beautiful beach at Huntington Beach State Park.   It is a day Celebrating With Dennis & Jennifer.  Such a beautiful day welcomes the warmth of the sun at the shoreline for this ceremony.  Taking place near sunset, privacy is not an issue.  Simple Wedding Day, LLC joins the couple for a special time with their immediate family.  Therefore, thank you for allowing me as your Murrells Inlet Wedding Officiant to perform your ceremony.   Simplicity sometimes is the way to go to enjoy a Myrtle Beach Wedding Day.
If planning a beach wedding seems overwhelming, contact us.  Rev. Benjy Simmons is eager to assist you.  He is available to perform your ceremony as your officiant.   He is also available to help with any recommendations making your dreams come true.  We offer packages catering to your needs.  We set up an archway for a backdrop as a request from the couple, too.  A package with wedding chairs for guests seating is set up with your wishes in mind.  A photography package is another way to help with making dreams come true.  In addition, a video or music package is a way to capture precious moments.  In conclusion, let us help you plan your Romantic Murrells Inlet Wedding Day.
Rev. Benjy Simmons is a pastor at heart, a licensed, ordained minister with over 20+ years experience. He lives in the Surfside Beach Area. He and his family love the causal beach setting and the fun it offers. Weddings are a blast!
Comments