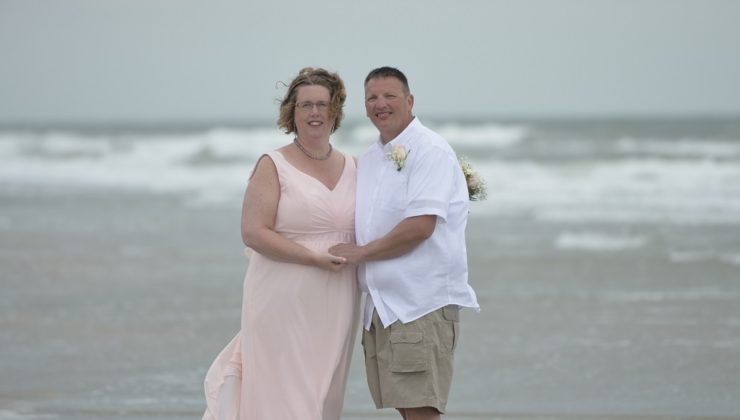 Jason & Amy Celebrate Love
A Myrtle Beach Wedding Renewal Ceremony is on the beach at Sea Watch Resort.  It is just the family enjoying this special day.  Jason & Amy Celebrate Love for their 20 years of marriage.  The joy is Simple Wedding Day, LLC in joining the couple of such a wonderful day.  Choosing the beach as a back drop is enough to provide the right setting.  A sand ceremony is a part of the ceremony, too.  Capturing the photography for the ceremony is Randall Hill.  The picture in this post is by Simple Wedding Day.  Therefore, thank you for the honor of performing your ceremony, as your Myrtle Beach Wedding Officiant.
To discover the joy of having your Myrtle Beach Wedding Renewal Ceremony, contact Rev. Benjy Simmons.  He is available to provide assistant with your planning.  He is also available to perform your ceremony.  We offer packages with decor.  An archway is an option as well.  Wedding chairs is a good choice.  Photography is also available, too.  In addition, engraved sand ceremony sets along with toasting glasses is yet another add on to any package.  Therefore, consider us when choosing the right company to serve you.  A phone call or an email begins the process of making your dream wedding in coming true.
Rev. Benjy Simmons is a pastor at heart, a licensed, ordained minister with over 20+ years experience. He lives in the Surfside Beach Area. He and his family love the causal beach setting and the fun it offers. Weddings are a blast!
Comments