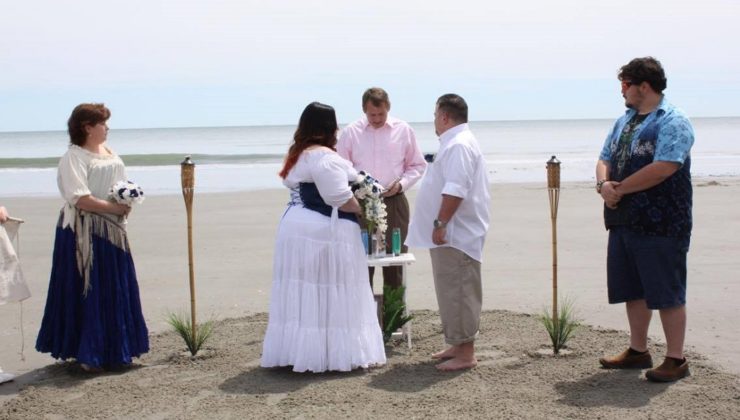 Happy Day for Andy & Sharon
A North Myrtle Beach Romantic Wedding takes place on the beach at Shore Crest Villas.  It is a Happy Day for Andy & Sharon.  Congratulations!  Thank you for such an honor to share in your special day.  As you North Myrtle Beach Wedding Officiant, it is always my joy to perform your wedding ceremony.   Simple Wedding Day, LLC joins many couples each year from the beginning of their planning until the nuptials is over.   The picture in this post is used by permission from the bride and groom.  It represents a simple set up with Tikki Torches as their decor. North Myrtle Beach has many options for a beach wedding.  It also has many great venues to have a more formal and elaborate wedding as well.
To learn  more about having a North Myrtle Beach Romantic Wedding, contact Rev. Benjy Simmons.  He is available to officiant your wedding ceremony.  We also have packages for your wedding day as well.  If you need just an archway, it is available.  We offer a package with wedding chairs, too.  A photography and videography package is also another option.  In addition, if you just need help choosing the right location, we offer assistance as well.  Feel free to give us a call or contact us through this site.
Rev. Benjy Simmons is a pastor at heart, a licensed, ordained minister with over 20+ years experience. He lives in the Surfside Beach Area. He and his family love the causal beach setting and the fun it offers. Weddings are a blast!
Comments