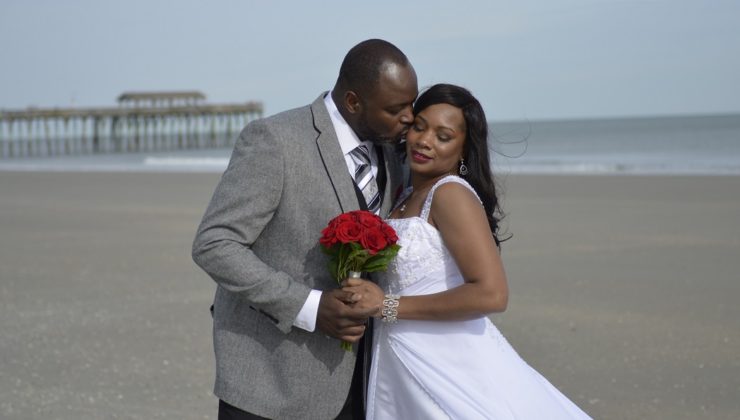 Ken & Michelle Celebrate Marriage
A Beautiful Intimate Myrtle Beach Wedding is on the beach at the Myrtle Beach State Park.  Ken & Michelle Celebrate Marriage on a quiet spot.  Thank you so much for the honor of performing your wedding ceremony.  As a Myrtle Beach Wedding Officiant is serve many couples of such a special day.  Hannah Ruth provides the photography on their wedding day capturing great moments.  Thank you Hannah allowing the opportunity to snap a few pictures.  (The picture in this post is from Simple Wedding Day, LLC).
If you are considering a more formal wedding, Rev. Benjy Simmons is available to help you.  Feel free to Contact Us for more information.  If you need just an officiant for your wedding day, he is available.  We offer a package with chairs.  Archway is another option for decor.  Sand Ceremony Sets with engraving is also available.  In addition, toasting glasses with the personalization of names and date is also a way to add something special.  A photography and video package is available, too.  Music is yet another package we offer.  In addition, if you have questions, we can help you along your journey.
Rev. Benjy Simmons is a pastor at heart, a licensed, ordained minister with over 20+ years experience. He lives in the Surfside Beach Area. He and his family love the causal beach setting and the fun it offers. Weddings are a blast!
Comments