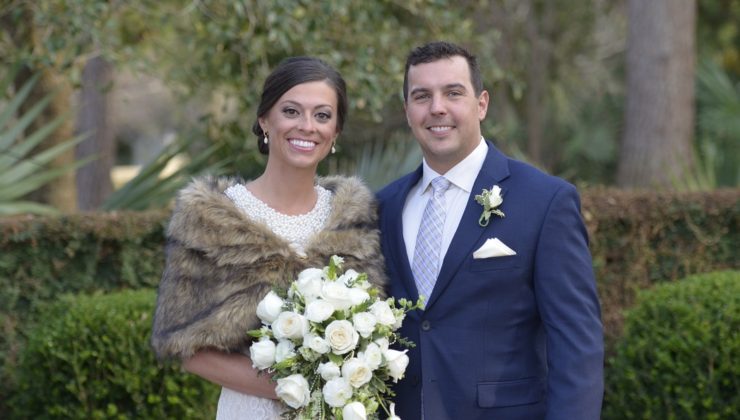 Happy Day for Russ & Mary Catherine
A Pinelakes Country Club Wedding is a beautiful venue for any size wedding.  It is a Happy Day for Russ & Mary Catherine.  It is making memories regarding sweet love and marriage.  Thank you for allowing me the honor of performing your ceremony as your Myrtle Beach Wedding Officiant.  It is an intimate private ceremony on the steps of the country club house celebrating the couple's love.   Therefore, it is always wonderful working with great vendors such as Events by Santana who coordinates and directs the wedding day festivities.  (The picture in the post is the property of Simple Wedding Day, LLC).
To discover the joy and ease of planning your Pinelakes County Club Wedding Day, contact their staff or Rev. Benjy Simmons.   Helping and assisting with your Myrtle Beach Wedding Day dreams is our joy.   We provide free no obligation consultation, too.  We also provide vendor recommendations to help select your wedding team.  In addition, planning ahead assures you of the best selections in making your Myrtle Beach Wedding the most successful. Therefore, give us a call or Contact Us through email to begin your wedding day journey.
Rev. Benjy Simmons is a pastor at heart, a licensed, ordained minister with over 20+ years experience. He lives in the Surfside Beach Area. He and his family love the causal beach setting and the fun it offers. Weddings are a blast!
Comments