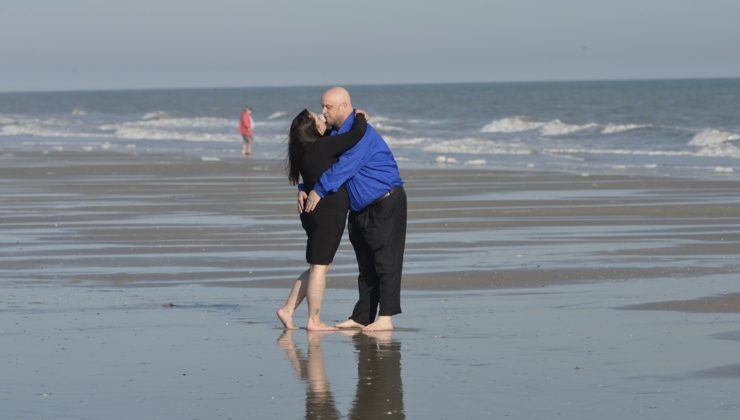 Chris & Alissa Celebrate 25 Years
A Romantic Beach Vow Renewal is in the afternoon at the Myrtle Beach State Park.  Chris & Alissa Celebrate 25 Years of Marriage.  Congratulations on your years of love.  Thank you for the privilege of performing your ceremony as your Myrtle Beach Wedding Officiant.  The State Park many times offers privacy depending of the time of the year.  Therefore, Myrtle Beach boasts of its beautiful shoreline and many beach locations.  A wedding in Myrtle Beach, SC is dream of many.  Simple Wedding Day, LLC is happy to serve you on such a special day in your lives.
To discover the ease of planning a wedding in Myrtle Beach, contact us.  We offer assistance along your journey helping make dreams become a reality.  Rev. Benjy Simmons is available to officiant your ceremony. We specialize in Vow Renewal and wedding day memories. We offer packages based on your needs, too.  A simple archway and officiant may be all you need.  If you want to add music then we contract with many DJ's.  Photography is another great option to add.  In addition, wedding chairs for your guests is also an option.  Videography is yet still a wonderful feature to capture your day's memories.  Feel free to reach out to us for your Romantic Beach Vow Renewal Ceremony needs.  In addition, wedding day memories is our joy as well.  Small simple weddings or large elaborate weddings is our joy.
Rev. Benjy Simmons is a pastor at heart, a licensed, ordained minister with over 20+ years experience. He lives in the Surfside Beach Area. He and his family love the causal beach setting and the fun it offers. Weddings are a blast!
Comments