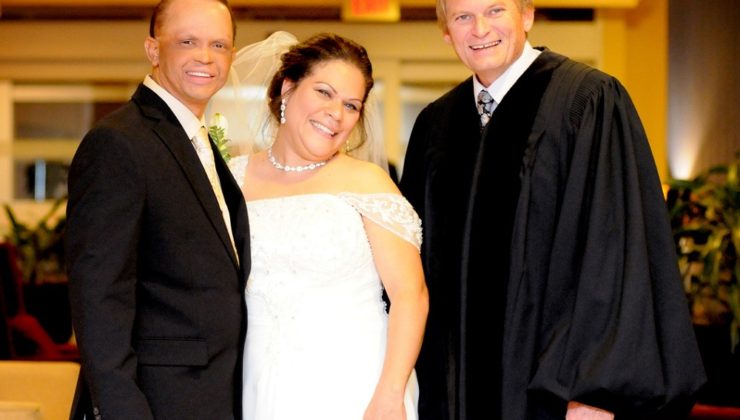 Happy Day Rauly & Denise
It is a Surfside Beach Holiday Inn Wedding Day where love and celebration join together.  It is a Happy Day Rauly & Denise.  The wedding ceremony is inside the ballroom.  Thank you for allowing me the honor in performing your ceremony as your Surfside Beach Wedding Officiant.    Photo Credit:  Gene Ho Photography by the bride and groom.  It is always great to work with DJ Scott and Company along with Gene Ho Photography.  In addition, Simple Wedding Day, LLC is available to help and assist with your wedding day dreams.
To learn more about having a Surfside Beach Holiday Inn Wedding, contact Rev. Benjy Simmons.  The staff at the Holiday in is always available to assist with any questions, too.  If an officiant is all you need, then Rev. Simmons is available as well.  If you need decor, like an archway, it is available as well.  We offer wedding chairs, too.  In addition a music and photography package is available.  Engraved toasting glasses and sand ceremony sets is also available.
Rev. Benjy Simmons is a pastor at heart, a licensed, ordained minister with over 20+ years experience. He lives in the Surfside Beach Area. He and his family love the causal beach setting and the fun it offers. Weddings are a blast!
Comments