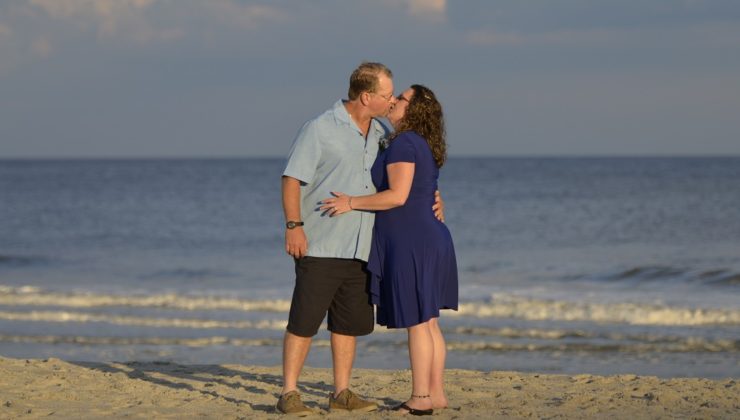 Wedding of Sherri & Chris
Surfside Beach 6th Avenue Wedding is held in the later afternoon celebrating love and commitment.  Myrtle Beach offers many great beach locations for your wedding day.  The Wedding of Sherri & Chris is a simple elopement.  Enjoying the moment with one another, Simple Wedding Day, LLC aids the couple along their journey. Therefore, thank you for the honor of performing your wedding ceremony.  As your Surfside Beach Wedding Officiant the joy is mine to stand with you on such a special day in your lives.
To discover the excitement of having your Myrtle Beach Wedding on the beach, contact Rev. Benjy Simmons.  He is available as your minister for your wedding day.  We offer packages including, an Archway.  Also, chairs for guest seating is available.  We have a package available with photography too.  In addition, we offer a video package as well.  We have available engraving for sand ceremony sets.  Limitless consultations is also available.  Experience is valuable when it comes to your wedding day.  We aim to treat everyone as equal.  Feel free to give us a call to find help for your Surfside Beach 6th Avenue Wedding day.
Rev. Benjy Simmons is a pastor at heart, a licensed, ordained minister with over 20+ years experience. He lives in the Surfside Beach Area. He and his family love the causal beach setting and the fun it offers. Weddings are a blast!
Comments