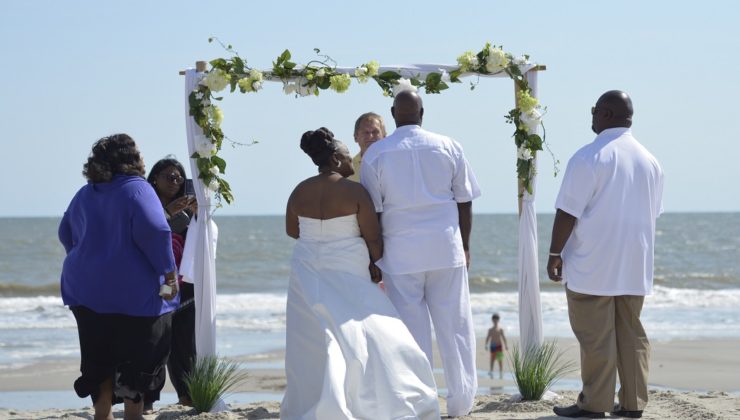 McCormick Family Celebrate Love
A Surfside Vow Renewal Ceremony takes place midday on the beach.  The McCormick Family Celebrate Love for their 10 years of marriage.  It is a small intimate ceremony with a few friends in attendance.  Therefore, it is my honor to share with this special family.  Simple Wedding Day, LLC set the Simple Archway on the beach.  We also provide some photography to capture memories for this special family.  As their Surfside Beach Wedding Officiant, the joy is always mine to stand with fellow ministers of the Gospel.  Therefore, congrats to Robert and Pastor Michelle. Surfside Beach is more of a family beach with clean beaches has a good maintenance plan by the town of Surfside Beach.
To learn more about having your Surfside Beach Vow Renewal, contact Rev. Benjy Simmons.  He is available to assist you and answer your most immediate questions.  It is our goal to help make your dream for weddings and renewals come true.  We provide many packages where we cater them to your needs.  A photography package is available.  In addition, a video and music package is also an easy add on.  We contract professional vendors to complete your package.  In addition packages including an archway and chairs is also available.  Therefore, if you a simple beach wedding or A Surfside Vow Renewal Ceremony is your desire, then give us a call.
Rev. Benjy Simmons is a pastor at heart, a licensed, ordained minister with over 20+ years experience. He lives in the Surfside Beach Area. He and his family love the causal beach setting and the fun it offers. Weddings are a blast!
Comments