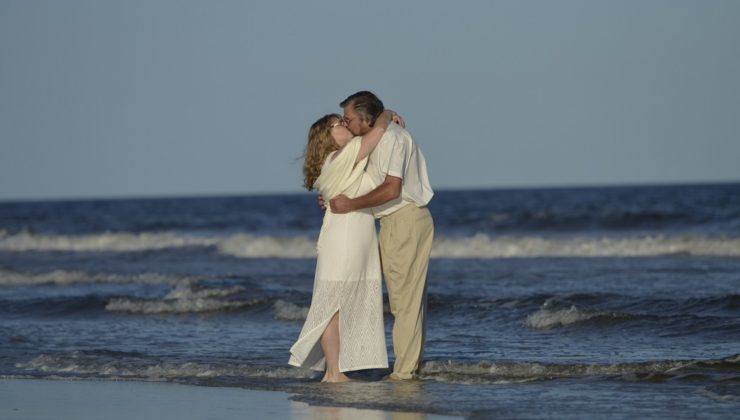 35 Years for David & Deborah
A Garden City Vow Renewal Ceremony is held on the south side of King Fisher Pier on a beautiful afternoon. It is 35 years for David & Deborah Letourneau.   Congratulations!  It was a simple and small ceremony but lots of fun.  Thank you for allowing me as your Garden City Wedding Officiant to perform your ceremony.  The lighting and temperature is just as one expects for a beach ceremony, too.  The picture in the post is the property of Simple Wedding Day, LLC.  Randall Hill provides the photography capturing memories for life.
If you a vow renewal ceremony is what you decide upon, then let Rev. Benjy Simmons help you.  He is available as an officiant for beach weddings or more formal larger weddings.  Myrtle Beach offers many opportunities for different venues for your wedding day.  We offer packages including decor.  A simple archway with chairs is one option.  Photography and videography is another option, too.  In addition, engraving for sand ceremony sets is available.  Toasting glasses is yet another great option.  Therefore, give us a call or send us an email with your renewal details.  We will help you with whatever you need.  Making dreams become a reality is our honor.  A Garden City Vow Renewal Ceremony is just one step away.
Rev. Benjy Simmons is a pastor at heart, a licensed, ordained minister with over 20+ years experience. He lives in the Surfside Beach Area. He and his family love the causal beach setting and the fun it offers. Weddings are a blast!
Comments