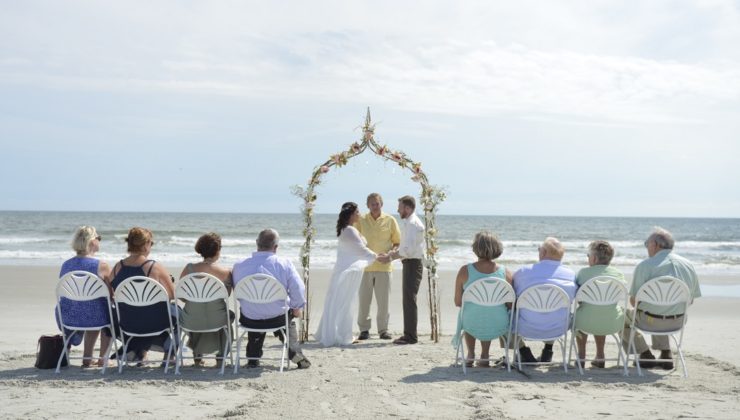 Kris & Stefanie's Wedding Day
It is a beautiful Intimate Huntington Beach State Park Wedding.  A few family and friends celebrate with the bride and groom.  Congratulations on Kris & Stefanie's Wedding Day nuptials.  It is always my honor to stand with bride and grooms on such a wonderful day in their lives.  Knowing the family makes it even more special.  Thank you for trusting me with the joy of performing your wedding ceremony.  Their package included a few wedding chairs and simple wedding photography.  Thank you once again.
If you are in need of a Murrells Inlet Wedding Officiant, contact Rev. Benjy Simmons.  He will personalize the wedding ceremony to your desires.  We also provide many packages.  If you are in need of décor like a Bamboo Archway, it is available.  If wedding chairs are a need, we provide this for you as well.  Photography and video is available.  Music for the ceremony is also available.  In addition to any package is our serve to any bride and groom leading up to the wedding day.  To contact us feel free to make a simple phone call or email.  Wedding day dreams becoming a reality is easier then many think and cost effective.
Rev. Benjy Simmons is a pastor at heart, a licensed, ordained minister with over 20+ years experience. He lives in the Surfside Beach Area. He and his family love the causal beach setting and the fun it offers. Weddings are a blast!
Comments