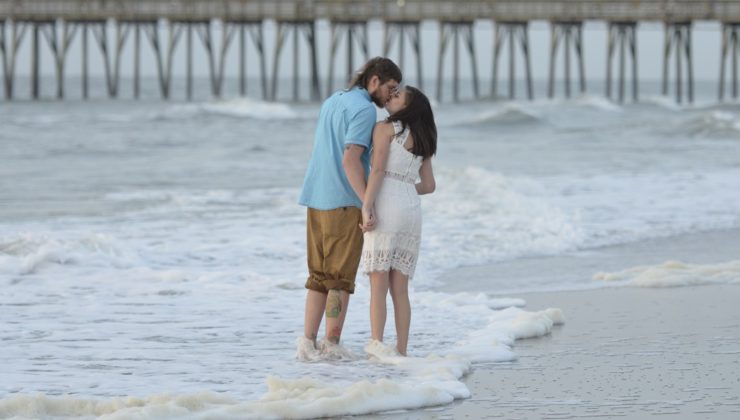 Congrats to Gray & Justy
The Myrtle Beach State Park host a Sunrise Family Myrtle Beach Wedding.  Congrats to Gray & Justy on your day of love.  About twelve family members join the couple on such a special day.  Thank you for the honor of serving you on your wedding day.  Simple Wedding Day, LLC provides their simple package.  The package includes the simple archway, professional photography and officiant.  Randall Hill Photography provides their photographic memories.  In addition, as your Myrtle Beach Wedding Officiant, it is my honor to perform your ceremony, too.
To discover the excitement of turning your dreams of having a Myrtle Beach wedding into reality, contact us.  Rev. Benjy Simmons is available to perform your ceremony.  Therefore, he is available to assist you with your wedding day plans.  We offer the right package for your wedding or renewal ceremony needs.  A bamboo archway with decor is available, too.  Wedding chairs is also a way to add formality.  In addition, a photography and video package is also available.  We provide engraving services for toasting glasses and sand ceremony sets.  Feel free to give us a call to complete your wedding day dreams.
Rev. Benjy Simmons is a pastor at heart, a licensed, ordained minister with over 20+ years experience. He lives in the Surfside Beach Area. He and his family love the causal beach setting and the fun it offers. Weddings are a blast!
Comments