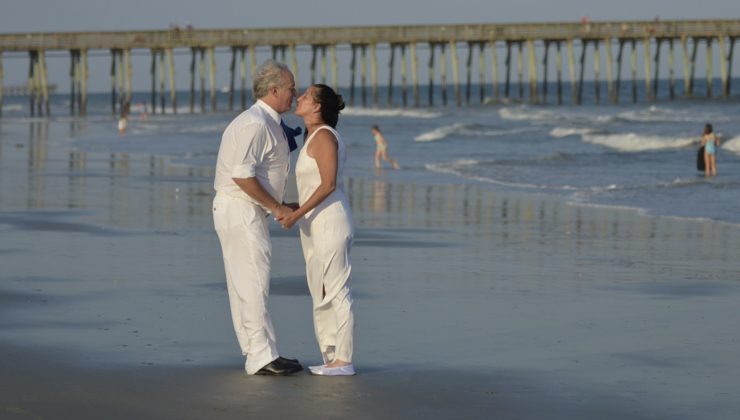 Wedding of Justyn & Melissa
A Beautiful Intimate Beach Wedding is in the Myrtle Beach State Park.  It is just the bride and groom celebrating their love.  The time of day is near sunset when privacy prevails.  Congrats on the Wedding of Justyn & Melissa.  Thank you for the honor of performing your wedding ceremony.  As always, Simple Wedding Day, LLC is always ready to serve and share in such an important day as a Myrtle Beach Wedding Day. Therefore,  as a Wedding Officiant, the honor is always mine to guide and assist with the with the needs of couples who desire to marry.
To begin your journey in making your dream for a beach wedding or more formal wedding come true, contact Rev. Benjy Simmons.  We provide many packages including decorations like a Bamboo Archway.  Chairs for guest seating is an option as well.  A photography and video package is also available.  In addition, a music package offers a special enhancement for the ceremony.  Consequently, an email or phone call to us to begins the next step to having your Beautiful Intimate Beach Wedding in Myrtle Beach, SC.
Rev. Benjy Simmons is a pastor at heart, a licensed, ordained minister with over 20+ years experience. He lives in the Surfside Beach Area. He and his family love the causal beach setting and the fun it offers. Weddings are a blast!
Comments