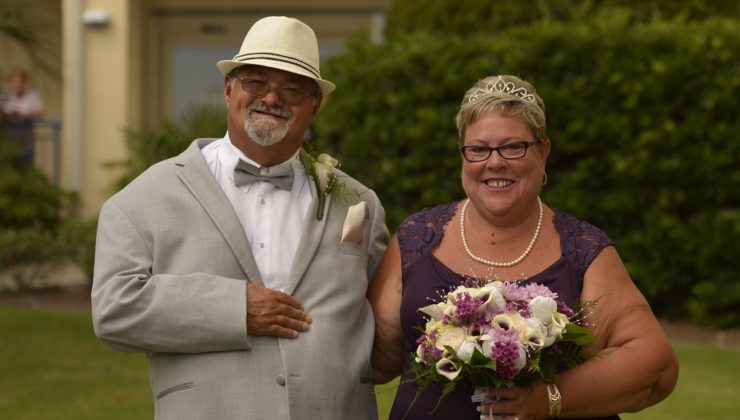 Wedding of Bill & Carol
It is another Kingston Plantation Courtyard Wedding on a beautiful Friday afternoon.  Congrats on the Wedding of Bill & Carol.  It is always my honor and joy to perform a wedding ceremony.  Bill and Carol Haws always enjoys a good time.  Such a happy couple.  It is my joy to have them in my life as their pastor as well.  They celebrate their wedding day with family and friends.   Therefore, thank you for allowing me to serve you as your Myrtle Beach Wedding Officiant and Minister.  Kingston Plantation weddings is always a favorite place for love.  The staff is great and accommodating.   Simple Wedding Day, LLC is available to join you for your most precious day.
To learn how easy it is to plan your wedding in Myrtle Beach with many wonderful venues, contact Rev. Benjy Simmons.  He is available to assist and help you along your journey, too.   In addition, if you need decorations and chairs, a package is available.  A photography and video package is also available.  Therefore, if you just need is an officiant for your Myrtle Beach wedding day, this is also available too.  Kingston Plantation Courtyard Wedding is just a phone call away.
Rev. Benjy Simmons is a pastor at heart, a licensed, ordained minister with over 20+ years experience. He lives in the Surfside Beach Area. He and his family love the causal beach setting and the fun it offers. Weddings are a blast!
Comments