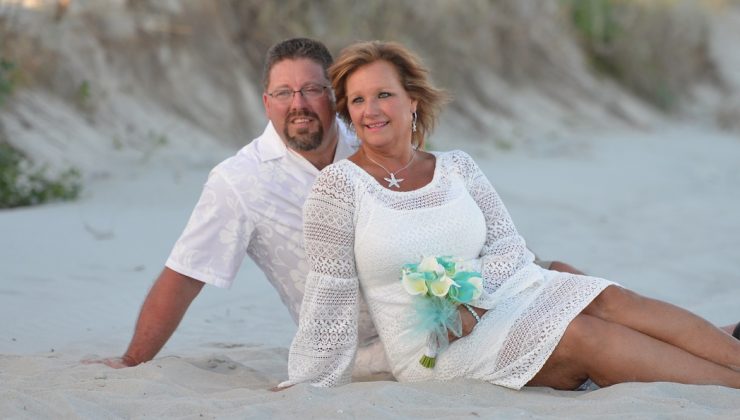 Congrats Michael & Robin
Marriage is a wonderful experience and Simple Wedding Day, LLC receives a blessing to be a part of your Romantic Myrtle Beach Wedding Day.  Congrats Michael & Robin on your day of joy and love.  Thank you for the honor to perform your ceremony as your Myrtle Beach Wedding Officiant.  Your trust in providing your Chairs and Sand Ceremony set along with setting up your photography is also my honor.  The wedding ceremony is held on the beach at the Myrtle Beach State Park.  Consequently, late in the day the beaches provide more privacy.  The landscape is also beautiful as well.  Randall Hill provides their photography.
We can handle your Beach Wedding Day needs.  Therefore, contact Rev. Benjy Simmons for more information.  Packages range from something simple or elaborate.  Decor and engraving service is available.  A package is available which includes music and video.  A Photography  adds a special touch as well.  In addition, we provide free consultations and help along your journey for your Romantic Myrtle Beach Wedding Day.  Feel free to email or call us any time to plan your special day for 2017 or 2018.
Rev. Benjy Simmons is a pastor at heart, a licensed, ordained minister with over 20+ years experience. He lives in the Surfside Beach Area. He and his family love the causal beach setting and the fun it offers. Weddings are a blast!
Comments